---
NEUROLENS MEASUREMENT DEVICE (NMD2)
Headaches? Eyestrain? Eye misalignment could be the culprit. The NMD2 is an objective, accurate and repeatable way to measure eye alignment. The cutting-edge eye tracking system allows the NMD2 to identify eye misalignment as small as 0.01 Prism Diopters, acquiring over 10,000 data points per patient.

Find out if you are a candidate
---
OPTOS DAYTONA (ULTRA WIDE-FIELD RETINAL IMAGING)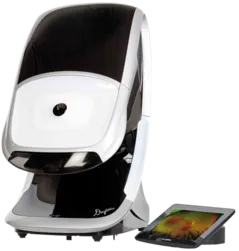 Some of the first signs of diseases such as stroke, diabetes, and even some forms of cancer can be seen in your retina, often before you have any symptoms. An optomap makes it easier to see these signs. The optomap is a panoramic digital image of the retina produced by Optos scanning laser technology. It is the only technology that can capture this wide-field view of your retina at one time. In most cases, the optomap image can take the place of dilation, saving you from the discomfort and blurred vision of the drops. Another benefit of the optomap is that it is saved as a baseline image of your eye for future comparison. The image capture takes less than a second per eye. Images are available immediately for review with the doctor. It is a safe and comfortable test for patients of all ages.
OPTOVUE iVue OCT
Optical coherence tomography (OCT) is a non-invasive imaging test that uses light waves to take cross-section pictures of your retina, optic nerve, and cornea. The OCT allows each of the eye's distinctive layers can be seen and measured. These measurements help with diagnosis and provide treatment guidance for glaucoma and retinal diseases, such as age-related macular degeneration and diabetic retinopathy.
---
MARCO PHOENIX TOPOGRAPHER and DRY EYE REPORT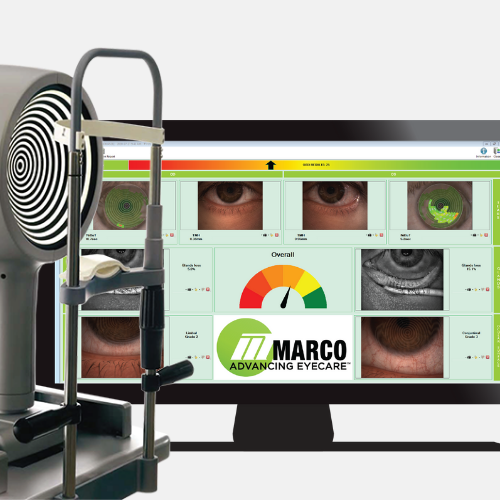 Corneal Topography is a technique that is used to map the curved surface of the cornea.
This can help measure quality of vision, screen for corneal diseases, determine candidacy for LASIK surgery, and assist in the fitting of contact lenses. The Marco Phoenix can also image the tear film and the meibomian glands, giving the doctor more information about the cause of dry eye and to monitor treatment.
HAAG-STREIT OCTOPUS 900 (VISUAL FIELD)
Visual field testing measures your central and peripheral field of vision. It is most frequently used to monitor for signs of glaucoma damage to the optic nerve. In addition, visual field tests are useful for detection of central or peripheral retinal disease, eyelid conditions such as ptosis (drooping), optic nerve disease, damage from medications such as Plaquenil, and diseases affecting the visual pathways within the brain. Sometimes the size and shape of a defect on the visual field test results can show the doctor where the brain has been affected by a stroke or brain tumor.
When taking the test, you look into what looks like a white bowl and click a button when you see a light flicker or move into your field of view. The Octopus 900 is a much more efficient test compared to other models of visual fields. Most tests take less than 3 minutes per eye.
ADAPTDX PRO (DARK ADAPTOMETER)
Our AdaptDx enables the doctor to measure dark adaptation function, which is known to be severely impaired in Age-Related Macular Degeneration
(AMD), Retinitis Pigmentosa (RP), and other macular degenerations. The AdaptDx can diagnose signs of of these diseases 5-10 years before any other clinical changes can be detected. Early detection allows you to take action against vision loss before its onset. In AMD for example, effective measures include lifestyle changes, blue light-blocking lenses, and the use of eye-health supplements that reduce the risk of progressing to the late-stage AMD and associated vision loss or blindness. In addition, tracking changes in dark adaptation function with the AdaptDx can help the doctor recommend treatment with proven late-stage AMD drugs at the earliest possible time when outcomes are best.
Patients find the AdaptDx test easy to take. It is non-invasive and takes as little as five minutes per eye. Learn more here.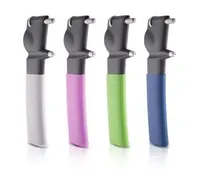 ICARE TONOMETER
The iCare tonometer measures the pressure in your eye without drops or the air puff. It is based on a new measuring principle, in which a very light probe is used to make momentary contact with the cornea. The measurement is barely noticed. The iCare is a much more pleasant experience for our patients, and also works great on children and sensitive individuals.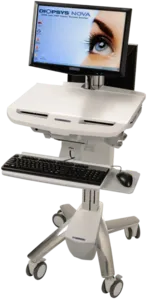 DIOPSYS VEP
Visual Evoked Potential (VEP) measures the electrical activity in the visual system. Using a checkerboard pattern on a computer screen and some electrodes placed on your head, the Diopsys® VEP test measures the strength of the signal reaching your visual cortex and how fast it gets there.
A doctor may recommend that you have a VEP test when you are experiencing changes in your vision that can be due to problems along the visual pathway. Some of these symptoms may include:
Loss of vision
Double vision
Blurred vision
Alterations in color vision
Disturbances in your vision
Weakness of the eyes, arms, or legs
These changes are often too subtle or not easily detected on clinical examination. The VEP test is also useful in checking vision in children and adults who are unable to read eye charts.
QUANTIFEYE MPS II (MPOD MEASUREMENT)
The QuantifEye MPS II is the most reliable and accurate device for measuring Macular Pigment Optical Density (MPOD). MPOD measurement allows Dr. Richard to assess a key age-related macular degeneration (AMD) risk factor, low macular pigment, as well as other visual performance challenges.
The QuantifEye MPS II is done primarily as a screening test. The primary benefits of MPOD measurement are:
• Identifies which patients need supplementation
• Confirms that EyePromise supplementation is working
Healthy MPOD is important for three specific reasons:
1. Low MPOD is a key risk factor for AMD
2. Healthy MPOD blocks harmful blue light from reaching the visual cells in the back of the eye
3. MPOD is associated with visual performance benefits like glare, bright light, and night driving